Lens Technology Improves for Energy Efficient Luminaires
The WhiteOptics lens technology focuses on maximizing light reflection, output and brightness to the space. Fewer luminaires are required in the space due to the improved light reflection and brightness from each luminaire with the added benefit of extending the luminaire lifetime. The uniformity of the light improved by eliminating the dots and glare for better overall optical aesthetics.



Why Does Glare Control Matter?
Luminaire with standard diffuser
(light in high angles)
Same luminaire with WhiteOptics glare control
(DLC 5.1 Premium UGR)

Glare is directly tied to a reduction in comfort and health. Controlling glare means fostering an environment that emphasizes light quality and increased productivity for the end-user. Unified Glare Ratings (UGR) convey the best application for luminaires, so that lighting designers and specifiers can deliver healthier environments that meet WELL Building Institute guidelines and the IES recommendations for creating comfortable spaces.
Why Does Reflectance Matter?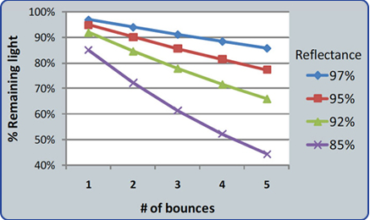 Every time a light ray is reflected, a portion of the light will be absorbed by the reflecting surface. Many current fixture designs involve multiple reflectors to achieve good aesthetics. A high performance reflector will minimize the absorbance from multiple bounces and maximize the usable exiting light.

Even a small difference in reflectance can make a big difference in lighting efficiency.
Why Does High Diffuse Reflection Matter?
High diffuse reflection helps provide the soft, uniform lighting experience most designers prefer for indoor lighting applications. It helps eliminate the glare and uneven "hot spots" or fluorescent lamp "stripes". In LED light fixtures, diffuse reflection is critical in mixing color and hiding multiple lamp images.